Shoot the Princess with Love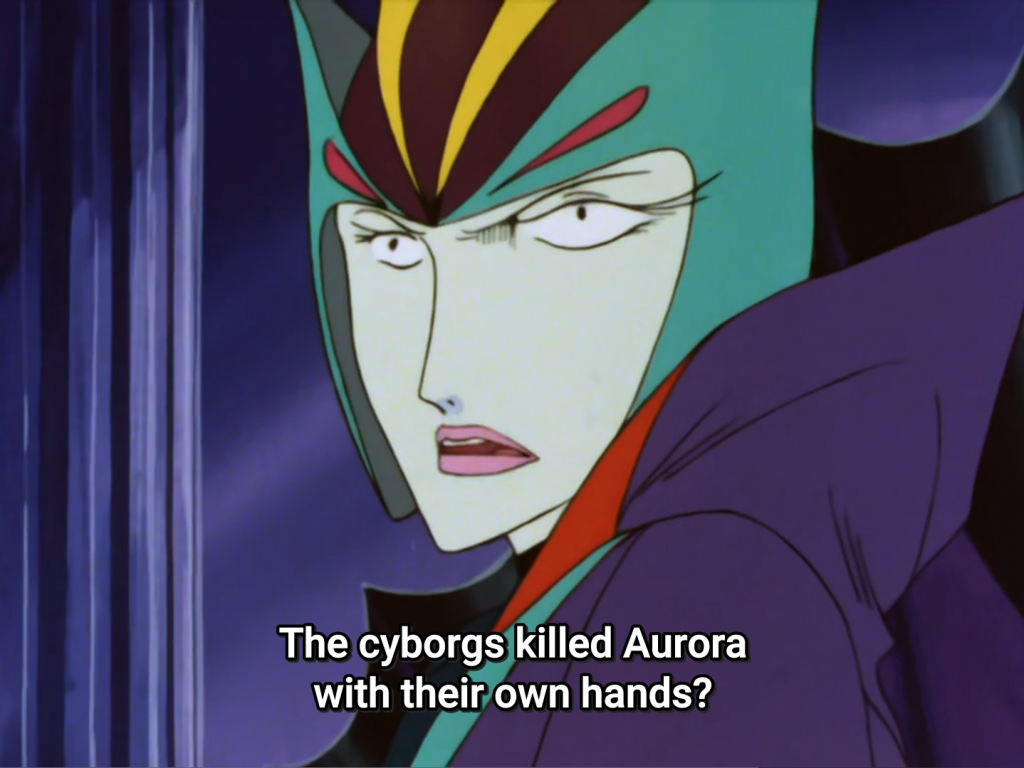 The Cosmos caught a rescue signal and headed for the planet Zyclo, the source of the transmission. However, the people seeking help were nowhere to be found. In fact, this was Bellamis' plan to use the Princess's compassionate nature to draw her away from the cyborgs. While Kugo and the others are fighting the monster Dragonfly that has appeared, the Princess is captured and taken away. Will her precious Galaxy Energy be misused for the sake of the Planet Lassetz? An anguished Jogo points the muzzle of his gun at the capsule carrying the Princess!
You can download the torrent file from Anidex or Anirena, or get direct links from AnimeTosho.
Translation Thoughts
If I had no job or life at all, it would take me exactly two days of 8-hour work each to translate an episode. The first day would be the actual translation. That's the "fun" day. The second day is the "annoying day", which consists of grammar and spelling checking, rewatching the episode completely to see if the translation makes sense and to change little things to make the story clearer, writing the new entry on this blog, and finally uploading the episode to Anidex, Anirena, Tokyo Tokoshan and Anime Tosho. The guys at Nyaa never wanted to create an account for me, and that's why I don't upload my episodes there.
So here's the process in detail:
It's faster to transcribe the whole episode to Japanese and then translate it to English than to translate from Japanese to English line by line. This is especially important because of the context. If you do it line by line, you'll lose some of that context and some of the lines won't make sense to the story.
Since we are in the AI age, I use an OpenAI software called Whisper to transcribe and time an episode. Specifically, I use Whisper.cpp, since it is faster. This will create a Video Text Tracks (VTT) file with the timed transcription of the episode. Of course, there will be many incorrect lines, incomplete lines, or merged lines between two different characters that the software mistook for one character and one line. Whisper really saves me at least half the time I would take to transcribe the whole episode, because even though there are always a lot of wrong lines and wrong things like names of characters, monsters, places or attacks, it does a really good job. Since I'm using it, the whole process takes a lot less time.
Using the NJStar Japanese Word Processor, I correct all of Whisper's errors and mistakes. I prefer that to installing a Japanese IDE on my OS, because, honestly, I don't write in Japanese that much.
Whisper can also translate the lines, but I just use it to transcribe. I know some groups are translating episodes entirely using AI, like AT-X translated Isekai Ojisan and released how they did it. People hated that translation, though. But I think in a few years, AI will translate everything, and translators won't be needed anymore. Who knows?
Now it's time to translate. I load the VTT file into Subtitle Edit. With this software, I can translate line by line and fix the timings that Whisper generated. It's very simple to use. There's an online version too.
After everything is translated, I use QuillBot for grammar and spelling checks. Then I create the episode using MKVToolNix and watch it from my basement couch on my Google TV using Kodi.