Fly! Towards the Great Planet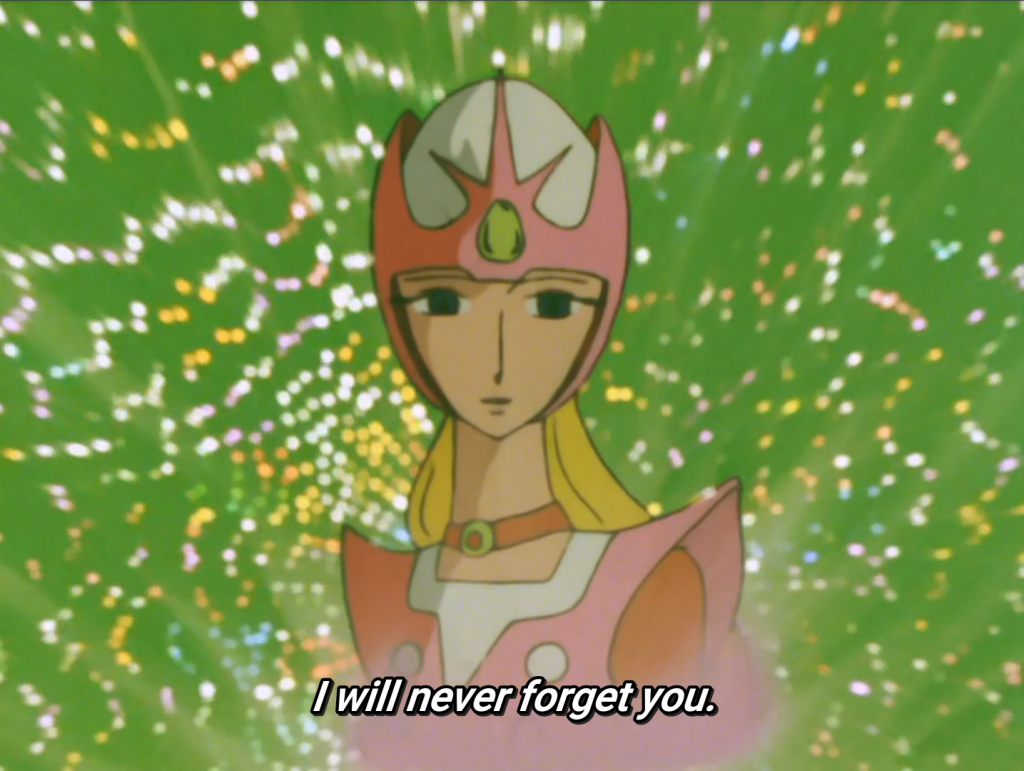 The Cosmos, which is about to reach the Great Planet, is chased by a mysterious black cloud and escapes to the Great Planet's moon. The black cloud turns out to be an electrical energy particle monster, but it is a great struggle for our heroes against such an elusive opponent. Kugo is reunited with Bellamis during the battle, and they take a temporary truce to confront their powerful enemy. The only way to defeat the particle monster is to destroy its core with electromagnetic energy. Bellamis risks her life to face the monster, carrying the wishes of those who have lost their planets!
You can download the torrent file from Anidex or Anirena, or get direct links from AnimeTosho.
Translation Thoughts
And we have just reached the final episode of SF Saiyuki Starzinger! But don't leave just yet; we still have to watch the nine episodes of SF Saiyuki Starzinger II to reach 73 total episodes of this show.
But if I'm being honest, I would've preferred if the show ended in this episode, around the 23:15 mark. The remaining nine episodes weren't necessary. And I wonder, why were there just nine episodes?
Once again, Kugo is giving me headaches. I'm not really sure of what he says at 3:35:
なんだなんだ、もうすぐじゃねえかよ! きちまったら吐けねえもんだな! え?
Nanda nanda, mousugu ja nee ka yo! Ki chimattara hake nee monda na! E?
What? What? We're almost there! I can't throw up once I'm there, right?
He obviously says something nasty because of Hakka's reaction to the comment, but I'm really not sure that's what he says there. I'm 50% sure.
At 15:28, Princess Aurora says:
あれは光粒子のモンスターです
Are wa kou ryuushi no MONSUTAA desu
That's a monster made of light particles
But then she says:
あれは電気エネルギーを持つ粒子のモンスターです
Are wa denji ENERUGII o motsu ryuushi no MONSUTAA desu
That's a monster made of electrical energy particles
So what is it, Aurora? Because it's not the same thing, you know. Is that energy made of photons (light particles), hence light? Or is it made of electrons (electrical particles), and it's electricity?
Here's something I totally forgot to talk about back in Episode 40. At 16:10, Bellamis says:
クーゴ、私の剣は電気剣なのだ
KUUGO, watashi no ken wa denji ken na no da
Kugo, my sword is an electric sword
The only time Bellamis have referred to her sword before this was in Episode 40, at 13:37. At that time I thought that "electric sword" was lame and that "electronic sword" was weird. So I deliberately changed the translation to "electromagnetic sword" because it sounded cool. To be consistent, I also used "electromagnetic" in this episode. But if you want to be a purist, keep in mind that it has always been an "electric sword".
Bellamis says at 16:32:
たった1日、いや1時間でもいい、私は
Tatta 1-nichi, iya 1-jikan demo ii, watashi wa
Even if it's just for a day or an hour, I…
And at 17:04:
たった1日、いや1時間でもいい。平和な時にあなたに会いたかった。
Tatta 1-nichi, iya 1-jikan demo ii. Heiwana toki ni anata ni aitakatta. 
Even if it was just for a day or an hour, I wish I could've met you in peacetime.
Yes, that means what you think it means.
At 20:09, Princess Aurora says:
そして大王星の女王はこれからいつもそばに
Soshite daiou sei no jou wa kore kara itsumo soba ni
And the Queen of the Great Planet, who will always be by my side from now on
Are you sure, Aurora? Because that's not how it works! The Queen will die, and you will become the Queen of the Great Planet.