The Red Desert Oath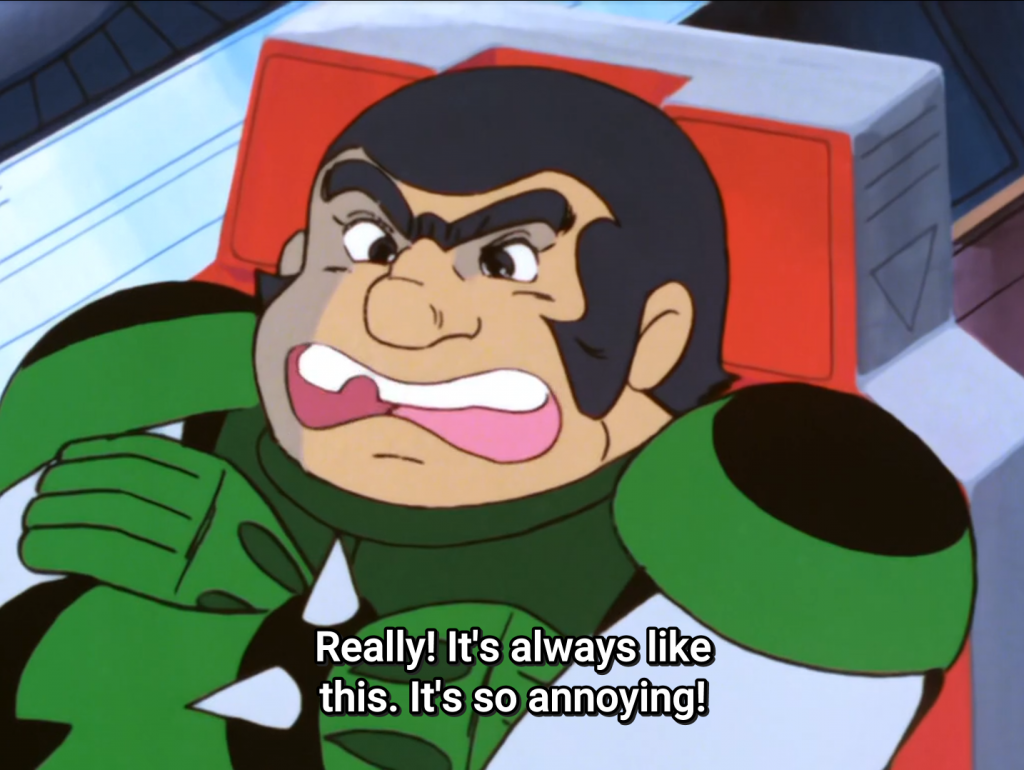 The Cosmos approaches the center of the Gilara star system. King Gyuma, impatient, gives strict orders to capture Princess Aurora and eliminate Kugo and his friends by any means necessary. Bellamis receives the order and leads both Gyuma Corps and Lassetz Corps in an all-out attack. Kugo and the cyborgs try to get the Princess to safety, and are lured into a red desert planet without knowing it's a trap. Queen Lassetz has transformed countless desert plants into monsters and is ready to use plasma radiation to kill Kugo and the others!
You can download the torrent file from Anidex or Anirena, or get direct links from AnimeTosho.
Translation Thoughts
Manga artist Leiji Matsumoto passed away last week, on February 13th. He was 85 years old. Not only was he the creator of SF Saiyuki Starzinger, but he was also the author of several other important anime like Space Pirate Captain Harlock, Galaxy Express 999, and its spin-offs Queen Emeraldas and Queen Millennia. Matsumoto collaborated as well on Space Battleship Yamato, which was a big hit and helped promote his career. He's also famous for the creation of several Daft Punk videos. Rest in peace, Matsumoto-san, and thank you for everything! Thanks to Stratolily as well for letting us know.
松本さん、ご冥福をお祈りします。
Matsumoto-san, gomeifuku o oinorishimasu
Rest in peace, Matsumoto-san
Sometimes I like to point out what the lesson or message of an episode is. Since this is a children's show, every episode usually tries to teach us something. In this episode, the cyborgs work together to overcome the obstacles, saying phrases like:
3人力を合わせればどんな苦しいことだって乗り切れるよ
3-Jin chikara o awasereba donna kurushii koto datte norikireru yo
If the three of us work together, we can get through anything that comes our way!
友情は武器よりも強しだよ
Yuujou wa buki yori mo tsuyoshida yo
Friendship is stronger than weapons!
Let's take a look at this line Kugo says at 7:42:
お前のことだからいつものようにもたもたもたもたしてると思ったぜ
Omae no koto dakara itsumo no you ni motamota motamota shiteru to omotta ze
I thought you were struggling like you always do
The actual direct translation would be like "I thought you would be very slow as you always are" or something along those lines. The word もたもた motamota is another onomatopoeia that means being slow, inefficient, or behind schedule. I used "struggle" instead of "be very slow" because the actual onomatopoeia means something between slow and inefficient, and "struggle" works better, which might mean a little bit of both.
At 14:08 Hakka says:
何が只のつぶつぶだよ
Nani ga tada no tsubutsubu da yo
What's with they were just ordinary particles?
The direct translation sounds horrible, so I changed it to "Are these just ordinary particles!?". Another good line would've been "Weren't these supposed to be ordinary particles!?", but it was longer, and Hakka speaks fast, so there's not much time for the viewer to read it. Sometimes you can't use the best lines you come up with because there's not enough time to read them!
You can see that Hakka uses the onomatopoeia つぶつぶ tsubutsubu instead of saying 粒子 ryuushi like Jogo said before when they first encounter the nebula. Both words can mean grains, particles, bumps, lumps, and things like that.