The Undersea Planet Atlantis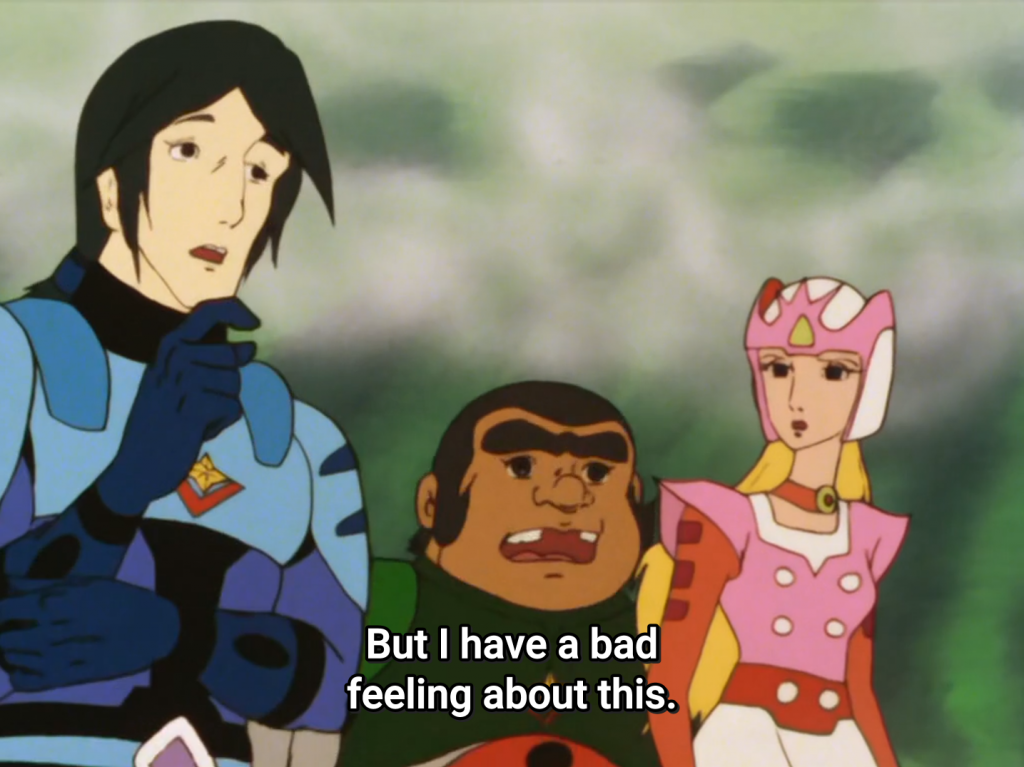 Kugo followed the Cosmos, but its whereabouts were unknown. The Cosmos crash-lands on the undersea planet Atlantis and destroys a statue of its guardian god. The Princess is taken by surprise by soldiers and becomes a captive. Hakka and Jogo are also taken captive, held in prison, and in desperate straits. Gills, who has been controlling Atlantis with his earthquake generator, decides to put Princess Aurora on trial for witchcraft and have her drowned in the sacrificial pit!
You can download the torrent file from Anidex or Anirena, or get direct links from AnimeTosho.
Translation Thoughts
The planet Atlantis is basically a hollow planet whose atmosphere is water. The city is underground. To get into the city, the Cosmos has to go through the water surrounding the planet and then through a crack or hole in the ground. It's confusing at first. Jogo tries to explain it, but I think he falls short.
Obviously, the writers of the show got the name Atlantis from the Greek island mentioned in some of Plato's work, which some believe to be under the water somewhere.
At first, I got the following line wrong: Prince Gills says at 11:36:
魔女でなければいかなるすいせんめにも耐えられるはずだ
Majo de nakereba ikanaru suisen-me ni mo taerareru hazu da
The problem here is the word すいせん suisen. If it's 水煎 suisen then the translation would be "Unless you're a witch, you'll be able to withstand any boiling water".
But after watching the episode, you realize that the water is not hot. So the correct word is 水洗 suisen which means "being flushed or rinsed with water". That way, the direct translation is "Unless you're a witch, you'll be able to withstand being flushed with water".
Then at 14:38, Prince Gills says:
もしお前が本当に魔女でなければ溺れ死ぬことはないはず
Moshi omae ga hontou ni majo de nakereba obore shinu koto wa nai hazu
Unless you're a witch, you won't drown.
Now this makes no sense at all since there's no way a human can withstand that amount of water, and the Princess is definitely going to drown. She literally says so immediately after that:
それは理屈に合いません
Sore wa rikutsu ni aimasen
That makes no sense!