Charge! The Kinkinman's Army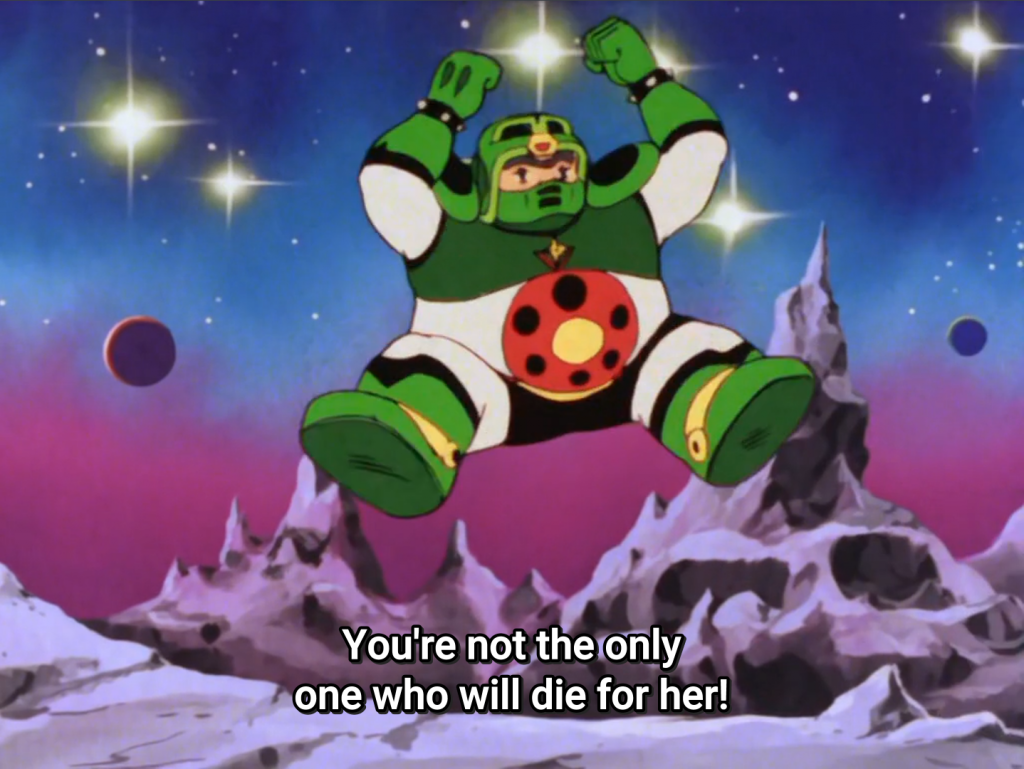 Kugo defeated Drango with a desperate attack. At the same time, the Cosmos was under attack by a monster army unleashed by Kinkinman. The Cosmos escapes to a light-absorbing planet, and manages to survive the monsters, but it loses contact with Kugo. Meanwhile, Kinkinman, having caught a rescue signal from Ginginman, personally commanded the Satellite Fortress Goldstar and launched an attack. Ginginman, who desperately wants to defeat Kugo with his own hands, knows this and plays his last trump card!
You can download the torrent file or get direct links from AnimeTosho
Translation Thoughts
In this episode the writers really abuse the phrase しっかりして shikkari shite, which in my opinion is one of those phrases that you know what it means, but it can't really be translated. It can mean "wake up", "snap out of it", "calm down", "hang in there", "hold on", "get your act together", it's crazy. It's said 11 times in this episode!
Sometimes it bothers me a little that it seems there's air everywhere, even in space! I mean, you can assume the cyborgs are not human anymore and they don't need air in space, but Princess Aurora also doesn't need a helmet or even a suit to come out from the Cosmos to help Jogo. Wouldn't it be extremely cold? Or extremely hot if they are near a star to go out in a skirt? And when the cyborgs are fighting, sometimes they fall off their ships, as if there were gravity all over the place! Well, it's a show for kids.
I think these episodes are getting harder and harder to translate. I kind of struggled with this one, and I'm not sure if the translation of some of the lines is actually accurate. I'm not sure if they are trying to separate from the children's audience or include more of a teenager audience now. People can be killed now, something that didn't happen in the first episodes, as Princess Aurora always reminded the cyborgs to not kill anybody. The language is becoming more mature as well, making it harder to translate. It's always easier to translate a children's show than an adult one.