Beautiful Eternal Snow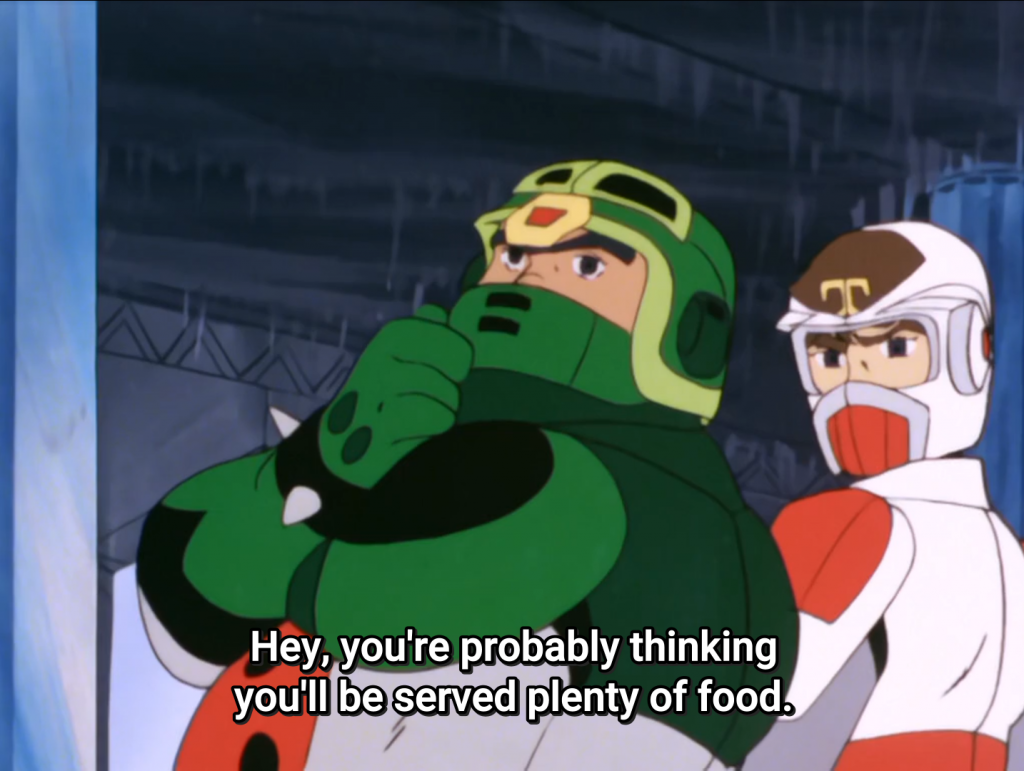 Bellamis, now Chief Captain, leads the Lassetz Corps battleship to attack the Cosmos. Kugo lures Bellamis out of the way, and the Cosmos uses the opportunity to escape to an ice planet. Fromeda, the queen of the ice planet, is a living copy of Jogo's late sister. Jogo, who trusts her completely, summons the Cosmos at her recommendation. Fromeda, a snow spirit who wishes to become a human being, is determined to obtain the Galaxy Energy by any means necessary. Jogo learns of this and tries to persuade her to reconsider her decision.
You can download the torrent file from Anidex or Anirena, or get direct links from AnimeTosho.
Translation Thoughts
When Bellamis refers to the Princess Aurora, Bellamis always says お姫様 ohime-sama in a really sarcastic way. The expression お姫様 ohime-sama is extremely formal, like saying "Your Royal Highness". Bellamis is just being sarcastic.
I think the translation works pretty well the first time Bellamis say it. At 5:58:
どこまで甘いお姫様だ
Dokomade amai ohime-sama da
How sweet a princess you are!
It's obvious that for Bellamis, Aurora must be a spoiled little girl. Bellamis has never met her up to this point.
The sarcasm is probably lost in translation the second time:
いかがですかお姫様
Ikaga desu ka, ohime-sama?
How about that, princess?
I thought if I translated that to "How about that, your highness?" that would transmit to the viewer the sarcasm a little better, but then people would hear the word 姫 hime without reading the word "princess" anywhere in the subtitles and would write me that the line was a bad translation 😏.
Jogo says a common Japanese expression at 18:51 that I thought I explained before in Episode 18 (Kugo says it at 16:49 in Episode 18), but it seems I didn't.
He says:
よし, 一か八かだ
Yoshi, ichikabachika da
Alright, one or eight
This expression 一か八か ichikabachika comes from gambling while playing a Japanese card game called かるた karuta which literally means "carta" in Portuguese (and in Spanish too!), or "card" in English. The expression means something like "do or die", "sink or swim", things like that. I typically translate it as "Here goes nothing" or "All or nothing", depending on the context.
What's funny for me personally about this expression is that around 20 years ago, a Japanese J-Pop band called Do as Infinity released an album named True Song, and one of the songs from the album is One or Eight. Just like that, in English. I guess these guys thought it would be cool to translate the title to English and probably thought it would mean the same. But "one or eight" in English doesn't mean a thing!
Every time I hear this expression, I remember that Do as Infinity song and laugh a little bit.
Happy New Year!